HOW CAN YOU EMPLOY ENVIRONMENTALLY FRIENDLY LANDSCAPING PRACTICES TO SAVE TIME, MONEY, AND RESOURCES?
Environmentally friendly landscaping, also known as "green" or "sustainable" landscaping, is a way of creating and maintaining your land, no matter the size, to save time, money, and valuable natural resources, while simultaneously being kind to the earth.
Traditional landscaping methods require substantial upkeep and the use of precious resources (water, energy, fossil fuels). In contrast, sustainable landscapes are designed to exist in beautiful harmony with the local landscape and nurture indigenous wildlife. Completely omitting the use of synthetic and toxic chemicals helps to reduce the amount of harmful chemicals entering the atmosphere, groundwater, and food chain. By using hand held tools, it reduces air pollution caused by gas-powered tools.
Simply put, eco-friendly landscaping is a healthier way of maintaining your yard. For a glossary of commonly used sustainable landscaping terminology, click
here
!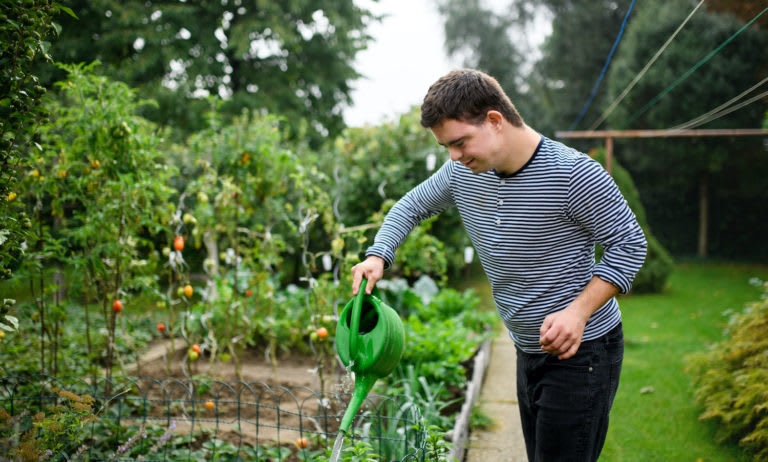 WHY DOES ENVIRONMENTALLY FRIENDLY LANDSCAPING MATTER?
The exterior of our homes are an extension of the interior — and in many regards an extension of ourselves and our sensibilities.
It is the first thing that friends see when they visit, and the last space you see as you drive away. It's a place of pride for many. The hours spent carefully mowing the lawn, whacking weeds, and planting the most vibrant flowers. But what if that effort could be done in harmony with the planet, instead of fighting against it? What if we used only hand tools, refrained from any chemicals, and planted only native seeds and flowers? Would our piece of land thrive and in return produce healthy, nourishing food and flowers? Yes. It's really that simple. A slower, simpler, more natural approach can yield healthier results. A place where you will want to spend time, invite others to convene, and share the knowledge you're gaining.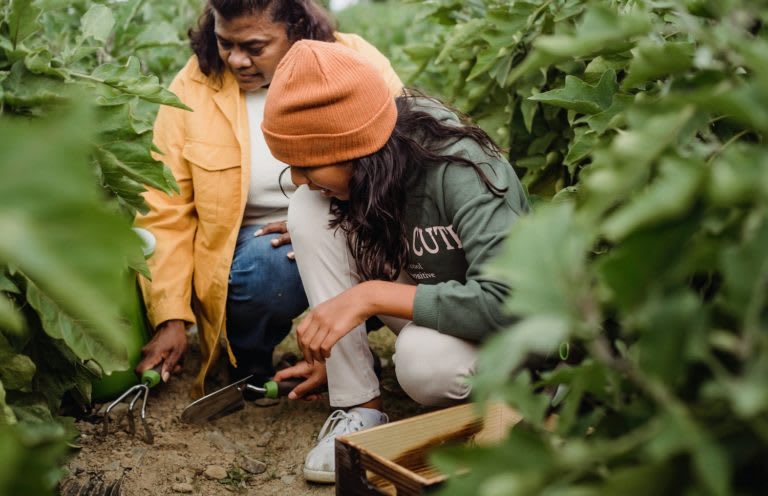 Whether your acreage is vast or small, our yards are a place where we can connect with nature. We can take off our shoes, plant our feet directly on the earth, and for a moment, be still. Go ahead, get your hands dirty. Make friends with the creepy crawly critters, quiet your pace long enough for a butterfly to land nearby.
If you live in a condo, you don't have to miss out on the meditative aspects of gardening. Seek out a community garden and plant herbs in pots on your balcony or window sill. Basil, rosemary, and thyme are easy to grow, and the aroma wafting from your window sill is hard to beat.
WHAT CAN I DO RIGHT NOW?
We know this can feel overwhelming. Don't try to take on too much at first. Consider the items that will work well for you right now. Start this season with three to four items from this list, then incorporate a handful more each season. Soon you'll be on your way to an environmentally conscious yard that nourishes your body and soul.
Reduce your grass/lawn size: Whether it's 10%, 20%, or 50%, the impact is measurable. Turn a portion of your yard into a garden, add pathways, groundcover, drought-resistant grasses, plant trees, or replace with artificial grass (flip to page 32 for more info on lawn alternatives).
Leave the clippings: For the portion of grass that you do keep, leave the grass clippings after you mow in the spring and summer. They will release up to 30% of the lawn's needed nutrients. Remove in the early spring and fall when decomposition is slower.
Let your garden sleep in: In the spring, wait to tidy up your garden until the temperatures have reached above 50 degrees. Pollinators are still sleeping in your plants' stems and leaves until then.
Avoid chemicals: Refrain from using any pesticides, synthetic chemicals, toxic fertilizers, sprays, or genetically engineered seeds.
Introduce ladybugs: These natural, noninvasive predators will devour huge quantities of pesky aphids. You can order a legion (group) of ladybugs through the mail. Dusk is the best time to release them into your garden.
Begin with organic seeds: To grow the healthiest food you can, it's vital to start with organic seeds sourced ethically. Look for an organic certification, avoid hybrid seeds, and look for a local seed swap.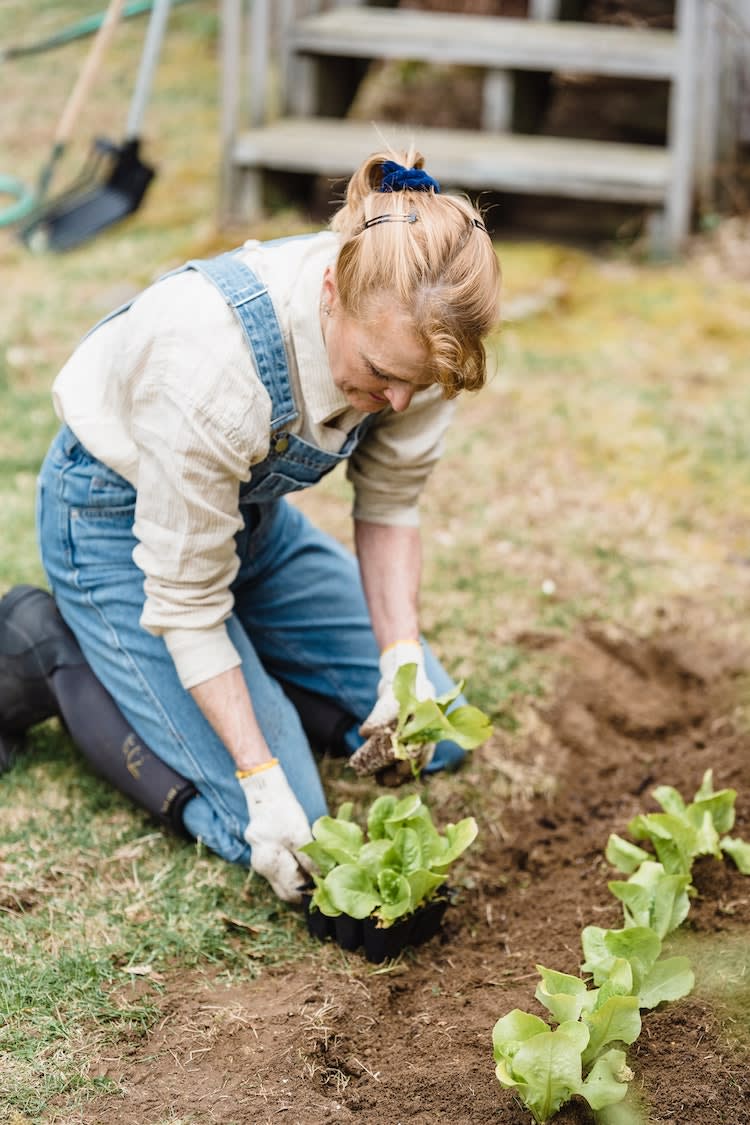 Create shade: Configure your landscaping and plant fruit trees that are appropriate for your zone. Not only will they nourish you, they provide needed shade and shelter for wildlife.
Compost: Turn your kitchen scraps into nutrient-rich food for your soil. There are many visually appealing container options now available.
Capture rainwater: Use a rain barrel to capture rainwater to water your flower and vegetable gardens. While larger cistern systems may need to adhere to certain local requirements, rain barrels (up to 55 gallons) are typically approved and unregulated (except for in Colorado, where they are regulated).
Water wisely: For your grass areas, install a sprinkler system that has rain sensors (or better yet, don't water and let nature take its course). For your garden and flower beds, install a drip irrigation system.
Incorporate rain scaping features: Set up rain gardens, bioswales, and rock dams to manage stormwater.
Skip the hose: To clean your driveway, deck, or walkways, use a broom or electric blower.
Opt for electric: Use electric powered tools (blowers, mowers as needed) instead of gas-powered appliances that produce more pollutants. Or even better, just use hand tools!
Pull weeds by hand: It's less damaging to the soil, and saves on fossil fuel consumption.
Add a beehive:
It's not as scary as it may seem. Click through
here
for our Spring feature on bee keeping!
Add pollinator plants: If bees simply aren't an option, planting pollen and nectar yielding plants will help save the bees. Which plants produce the most nectar? Spring vegetation, including: hazel, snowdrops, primroses, saffron, willow, helleborine, heather, wild cherry, and dandelion.
Build raised beds: If the soil in your zone is less than ideal, raised beds are a great idea for growing veggies. The soil stays warmer in the cooler months, you can start with a nutrient dense soil, and drainage is better with proper setup. It's also physically easier to tend to your garden instead of bending down, and it helps to keep pets out! Surround the perimeter with pea gravel or dirt instead of grass. It will keep the weeds down, give you a place to walk and work on your veggies, and requires no watering.
Grow native species: Grow plants, veggies, flowers, and trees that are native to your area and will thrive in your zone. Your local garden center can help you choose which varieties will work best for your sun positioning, shade, elevation, and climate.
Add mulch: Beyond looking lovely, mulch helps improve soil moisture, prevents plants from drying out too quickly, and creates a barrier from the heat and cold. It also helps reduce soil erosion and soil compaction.
Use natural materials: When possible, use natural rocks for landscaping. They are durable, reusable, and look beautiful. You can choose sizes and colors that fit the aesthetic of your home.
Plant marigolds as companion plants: Marigolds not only add vibrant color to your landscape, they can also provide a natural pest deterrent, and enhance the growth of basil, broccoli, cabbage, cucumbers, eggplant, gourds, kale, potatoes, squash, and tomatoes.
Subscribe to a CSA: Enroll in a seasonal subscription to a CSA (Community Supported Agriculture) program. You pay ahead for a season's worth of produce, picked up weekly or bi-weekly. Supporting local farms is a way to have a direct positive financial impact on your community, allowing farms to plan, employ, and invest in the longevity of their farms.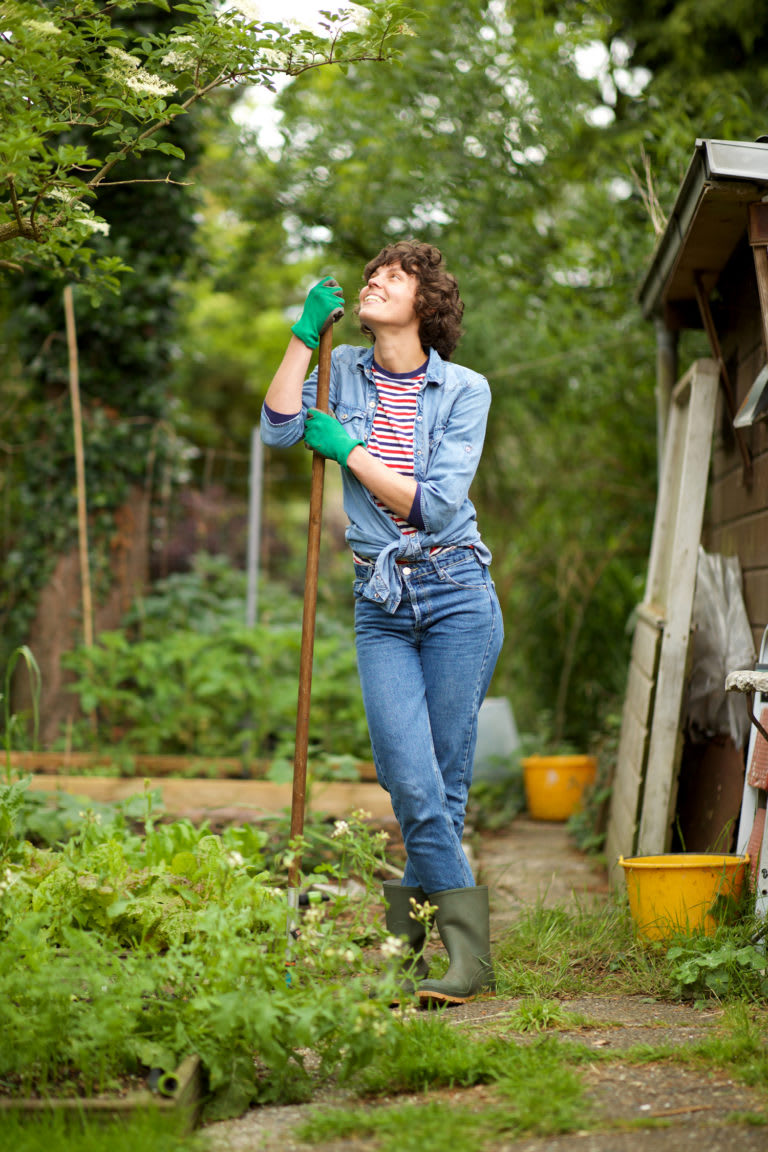 Make friends with your neighbors: Walk around your neighborhood, taking note of what your fellow gardening-enthusiasts are planting. What is thriving? Strike up a conversation and ask for advice. Food can be a beautiful place of common ground.
We shared this Environmentally Friendly Landscaping article with you in the Spring/Sumer 2022 issue of NEST Magazine. To view the full issue,

click here

.