Before & After: Home Office
THE NEW HEART OF THE HOME

While we each struggle to balance our daily workload, homeschool kiddos, and keep everyone fed, a home office has suddenly become one of the most important rooms in a house!

If you don't already have a dedicated home office…create one! Chances are that your formal dining room, formal living room, or spare bedroom aren't being used right now. Allow yourself the freedom to take over these spaces and make them work for your family, right now. Turn the dining room into a conference room for adult work or kid crafts. Make the spare bedroom the dedicated video room for conference calls, allowing you to close the door and minimize noise and distractions. If there's beautiful daylight in your formal living room, bring a desk right in! We are officially giving you permission to mix it up. This isn't forever. So find the solutions for right now that make you feel the best.

And now for a visual treat! Nester and her husband started renovating their home office months ago and finished just in the nick of time. "We purchased the home three years ago from the original owners, who hadn't upgraded anything since building the home in 1974. It had great bones, but needed to be completely gutted," shares Keri. They've slowly been renovating room-by-room, and the latest undertaking was the room below, which previously served as a formal dining room.

BEFORE: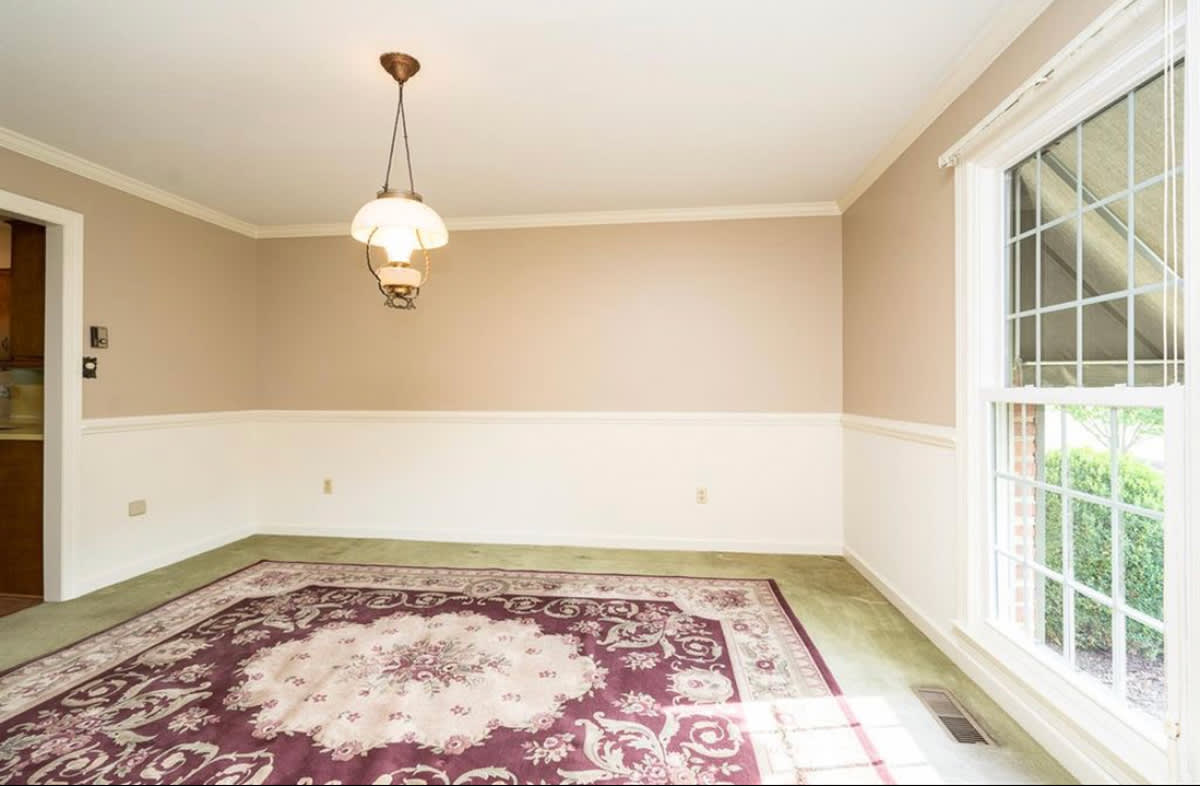 As with many homes built in the 1970s, there was a formal dining room and living room at the front of house, which were a bit redundant and underutilized. To make better use of the space, they decided to close up the opening into the kitchen and turn the space into a multi-functioning home office and lounge area.

​​​​​​​AFTER: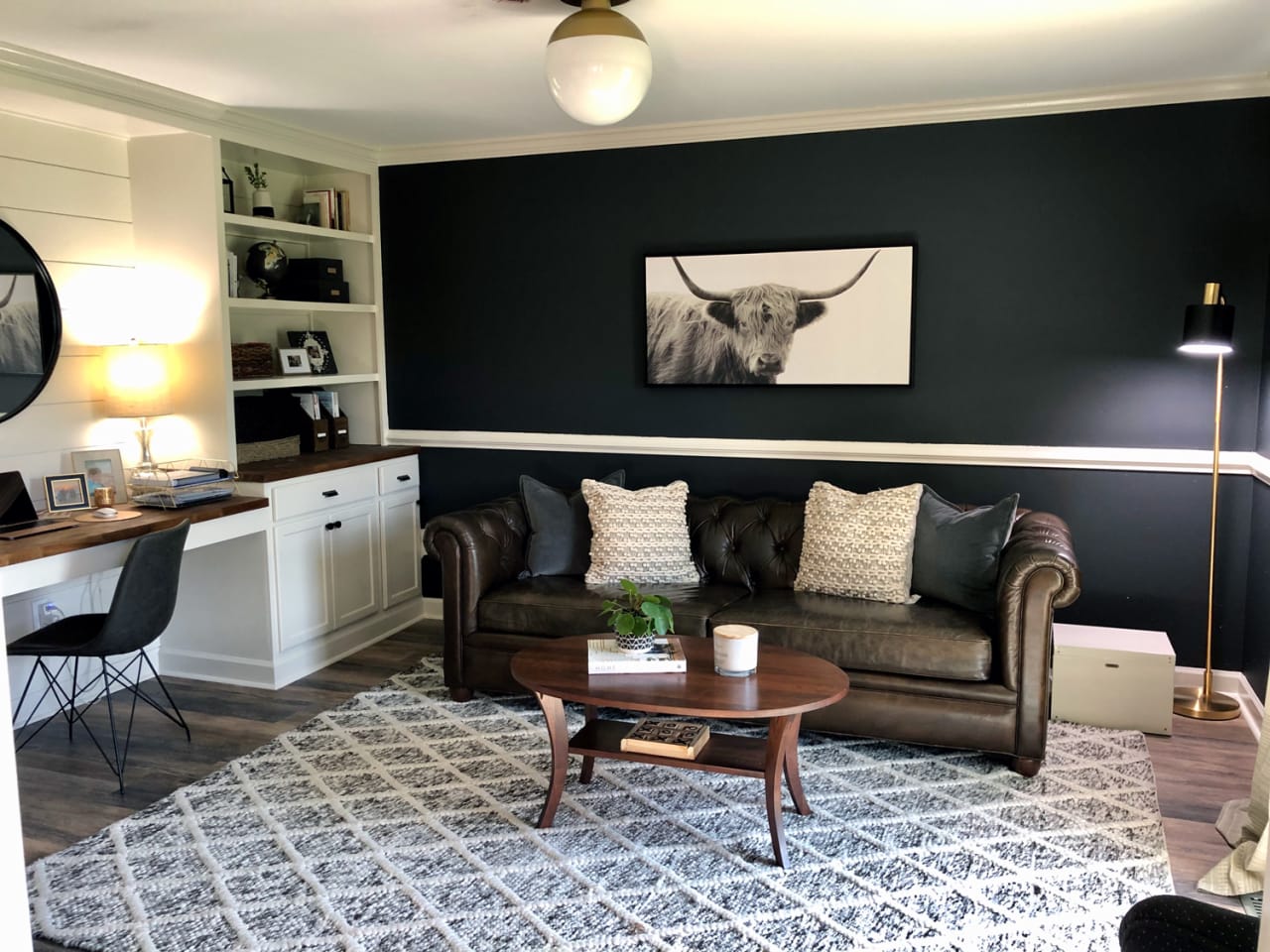 Talk about a transformation! To make the space both beautiful and functional, Keri enlisted the help of her contractor to build the custom built-ins, utilizing off-the-shelf materials from Lowe's. Base cabinets were paired with bookshelves, and backed with wide-planked shiplap. "I knew I wanted lower cabinets to hide ugly things like a printer and electronics, and bookshelves to display decorative items and family heirlooms, along with organizational bins to hold papers, magazines, and art supplies for the kids," explains Keri.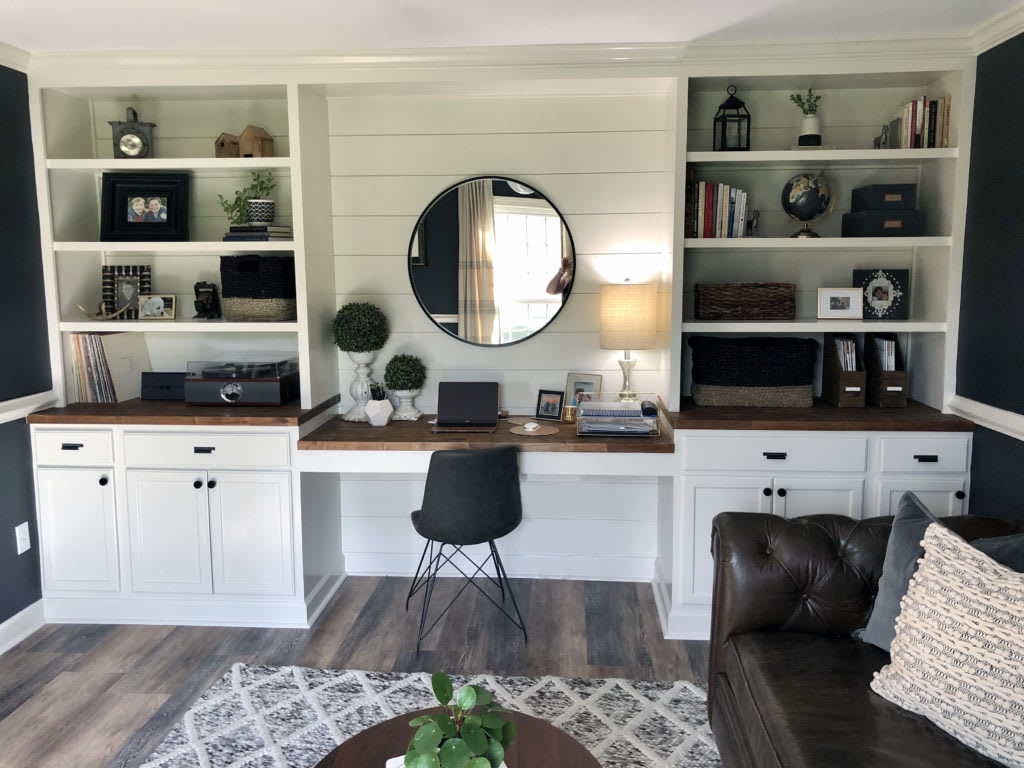 The traditional shiplap ties into the foyer, where it was also installed, and the beautiful butcher block countertops were stained the same hue as the staircase. The green carpet was replaced with LifeProof flooring, a luxury vinyl plank flooring. To really elevate the space, Keri chose Cheating Heart by Benjamin Moore, a dark saturated color. The longhorn bull artwork above the couch set the tone for the overall aesthetic of the space. Keri explains, "I saw the print in Target and I loved it. It inspired me to go for a classic Garden & Gun look—not too masculine, not too feminine."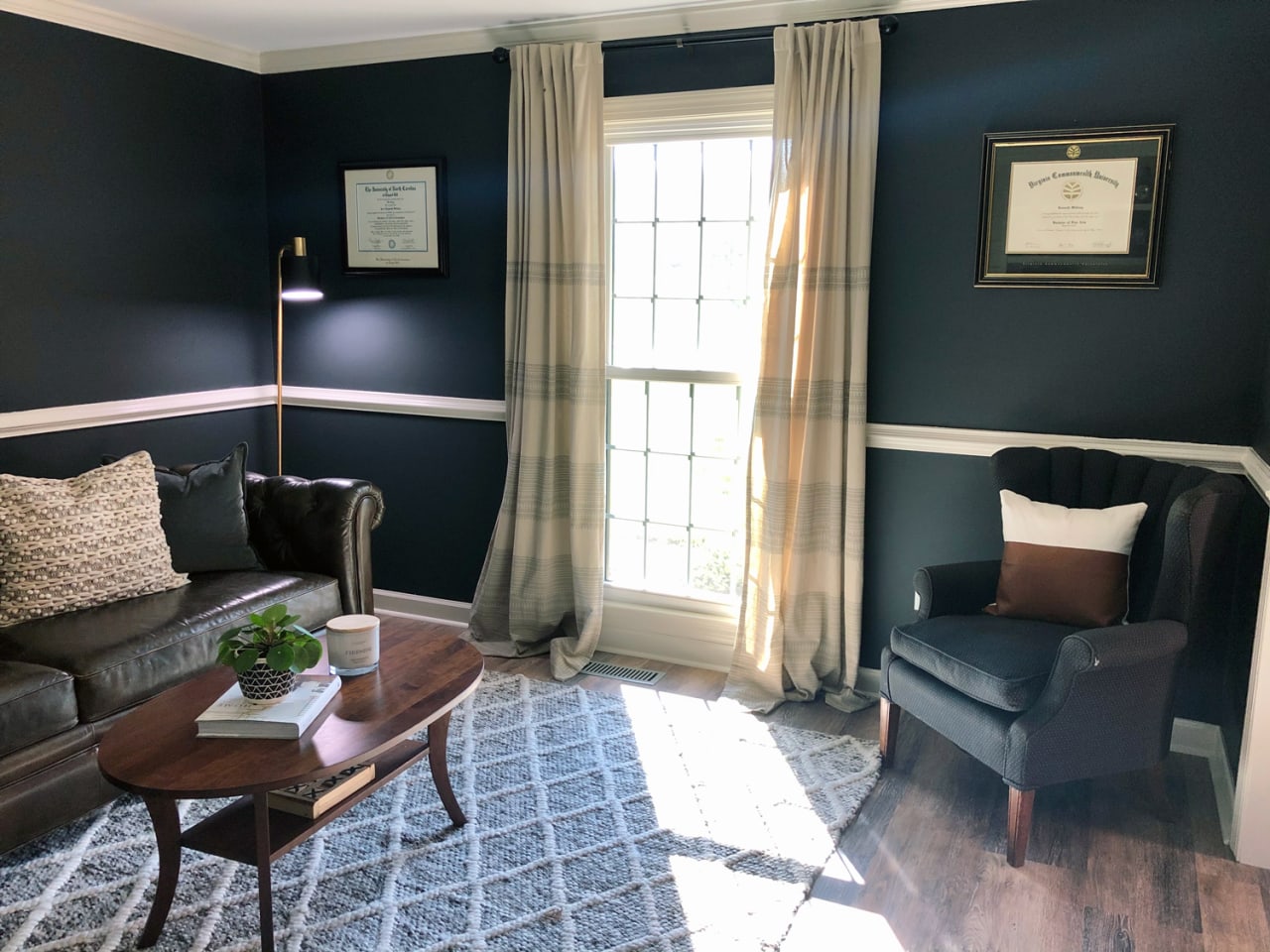 Keri's design tip? Splurge on your staple pieces like the leather chesterfield couch from Pottery Barn, and the cabinet hardware from Schoolhouse Electric, and pair it with affordable items from places like Target, TJ Maxx, Amazon, and Wayfair. The coffee table was a Facebook Marketplace find, and the accent chair was handed down from her mother. "At just $60, the print from Target was a fun choice, and if it goes out of style, I can easily swap it out."

​​​​​​​Are you ready to create your own temporary home office? Start by shopping your house! First, decide where your new home office will be, then gather items that make you happy. Borrow photos, plants, and furniture from other places in your house, and make your temporary work space as inviting as possible. You just may discover that your new home office gets far more use than your formal living room ever did!