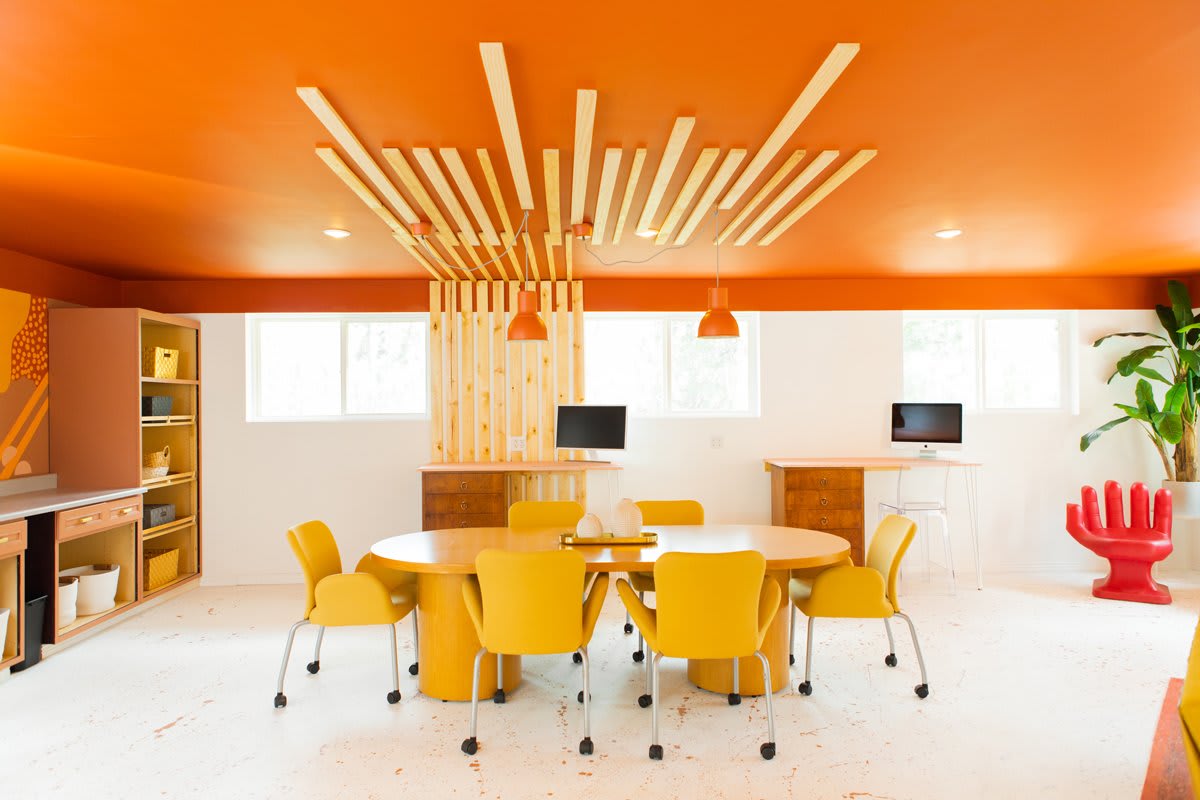 With work-from-home becoming the new norm for many of us, this family took the storage space above their garage and converted it into a co-working home office space for two. This once underutilized room is now a bright, open, organized space that's conducive of productive work days. Follow along to see how this space was transformed.
BEFORE: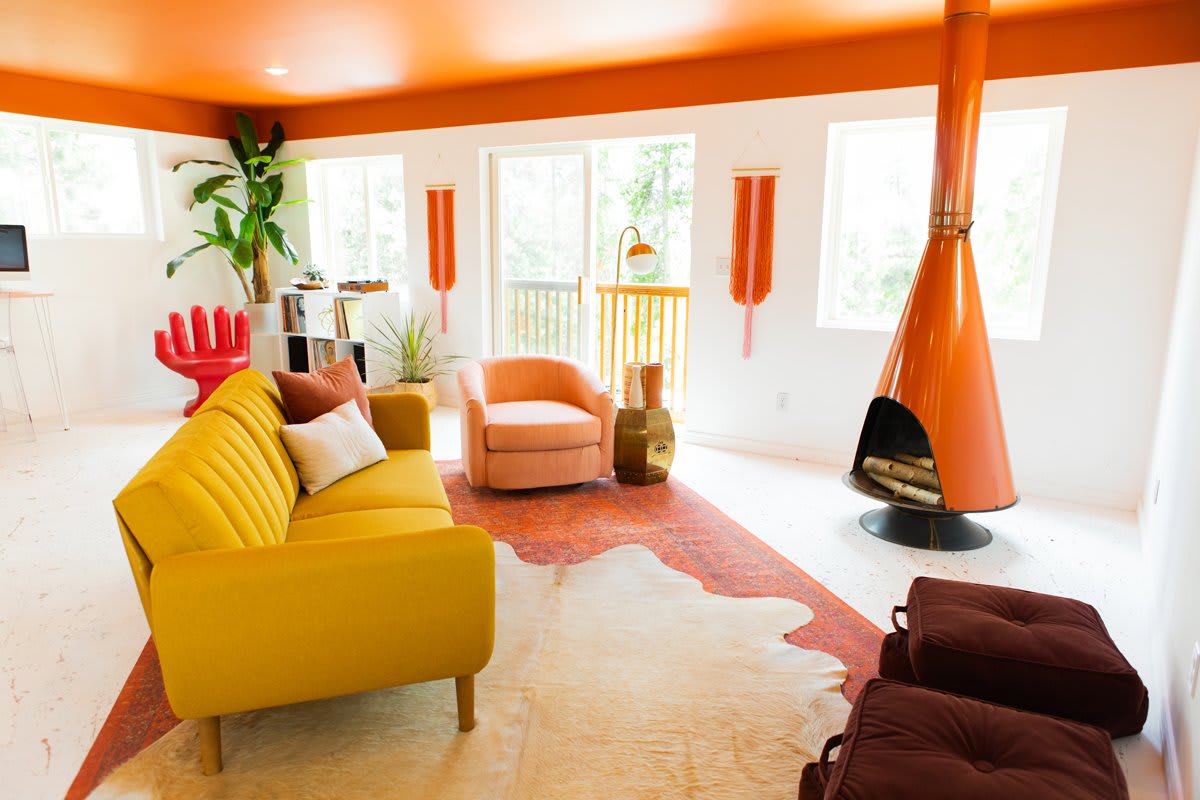 AFTER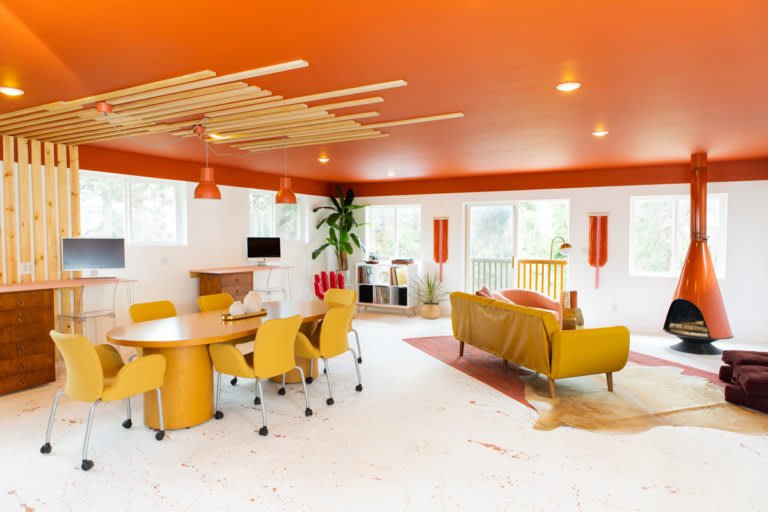 PAINT
The room itself was void of architectural details, so to add depth and dimension, the owners used painting techniques that make a strong visual impact. Chosen to match the vintage fireplace, the vermillion paint (Fiery Opal 077 by Benjamin Moore) was extended from the ceiling down 10 inches onto the walls, enveloping the room in warmth.
The walls were given a fresh coat of white paint (Super White PM-1 by Benjamin Moore) in a matte finish. Since new flooring wasn't in the budget, the owners decided to paint the wood subfloors white and splatter paint with a high-contrast dusty-rose color (Auburn Glaze S180-5 by Behr). The splatter pattern hides dust and potential future scratches and dings, and was sealed with a water-based polycrylic.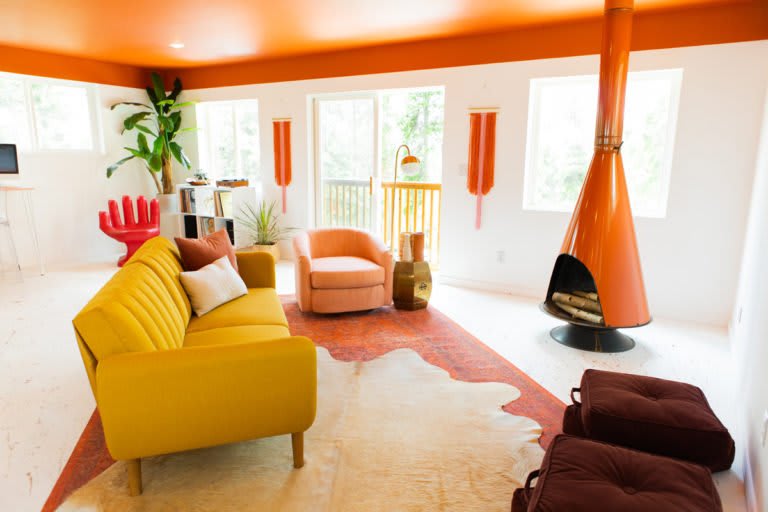 VIBE
The vintage fireplace was the catalyst for the overall design. The owners knew they wanted a space that was dramatic and impactful, yet uncluttered. By choosing bold pieces with a mid-century modern flare, they were able to achieve a sophisticated, California-cool vibe in a warm, desert-hued palette.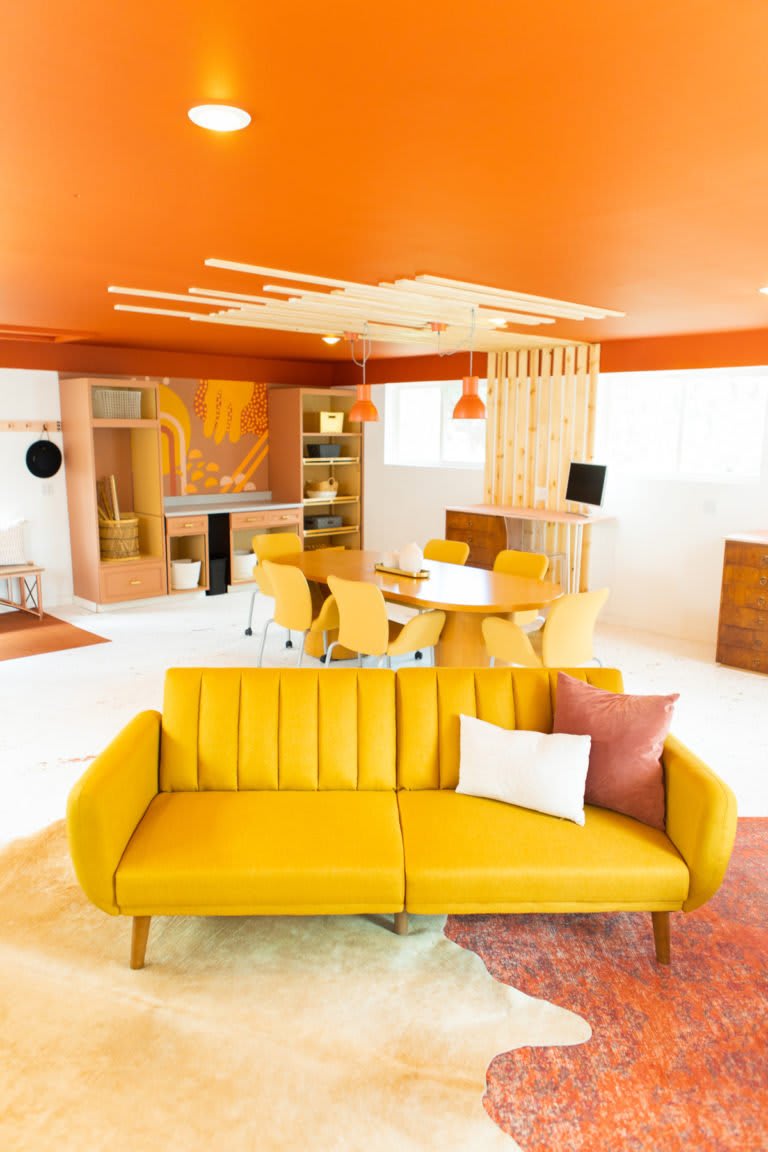 LIGHTING
The buzzing of overhead fluorescent lights was the first thing to go. They were replaced with affordable four-inch dimmable LED flush-mount recessed lights in a warm white. Two Scandinavian-style Hektar pendants from IKEA hover above the conference table, and an arched floor lamp in the lounge area provides a soft glow in the evenings.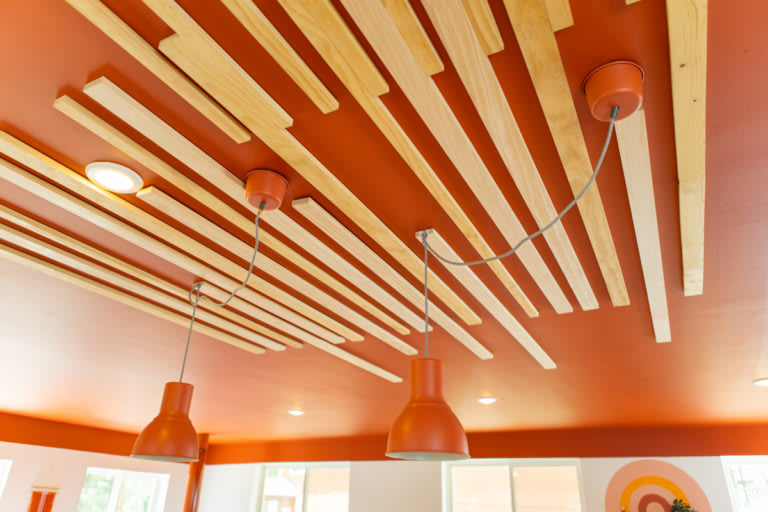 ZONES
To make the best use of the open space, various zones needed to be established visually. A wooden slat wall crawls up the wall and onto the ceiling and hovers above the thrifted round conference table, surrounded by vintage yellow rolling chairs. The two tall desks on the southern wall give both husband and wife their own work spaces, and cleverly form an additional vertical plane, visually layering them one step up from the conference table.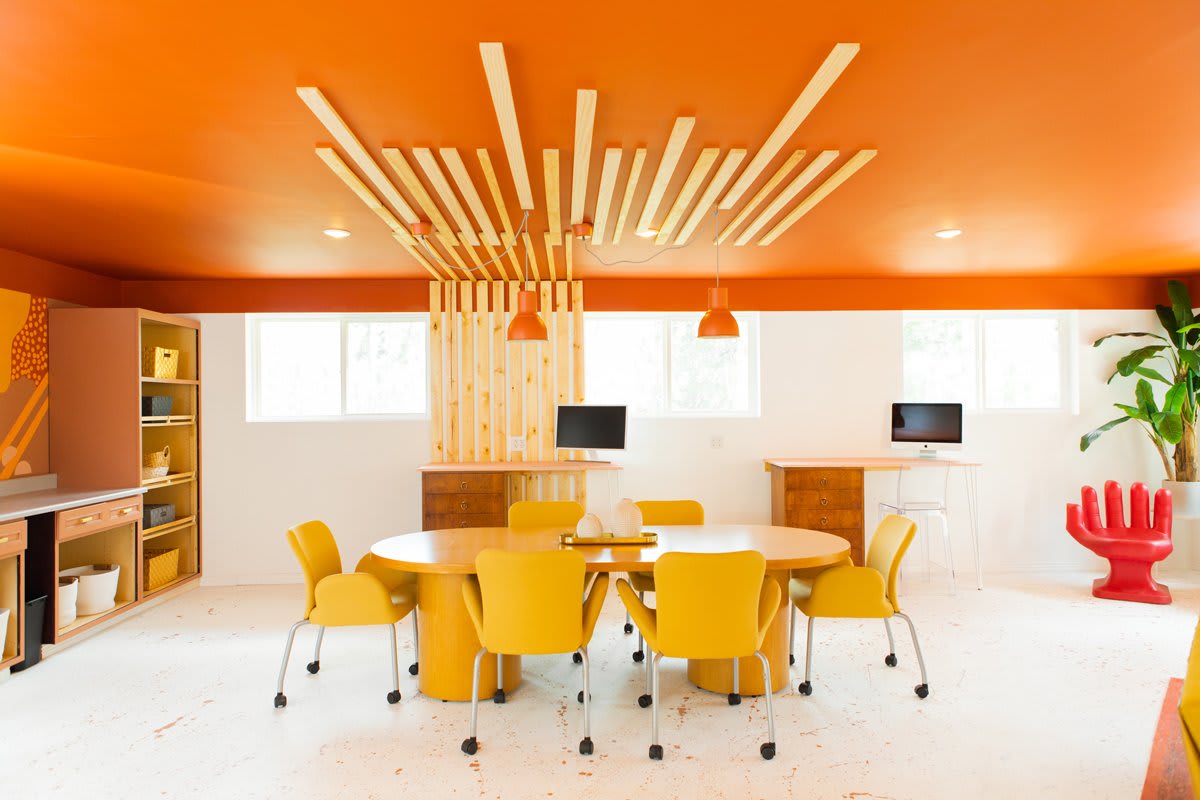 Old kitchen cabinets were rearranged and painted to create a storage area and art niche for the owners' daughters to use. The mural behind is playful and whimsical, and aims to inspire the girls to feel a sense of freedom as they create their own art.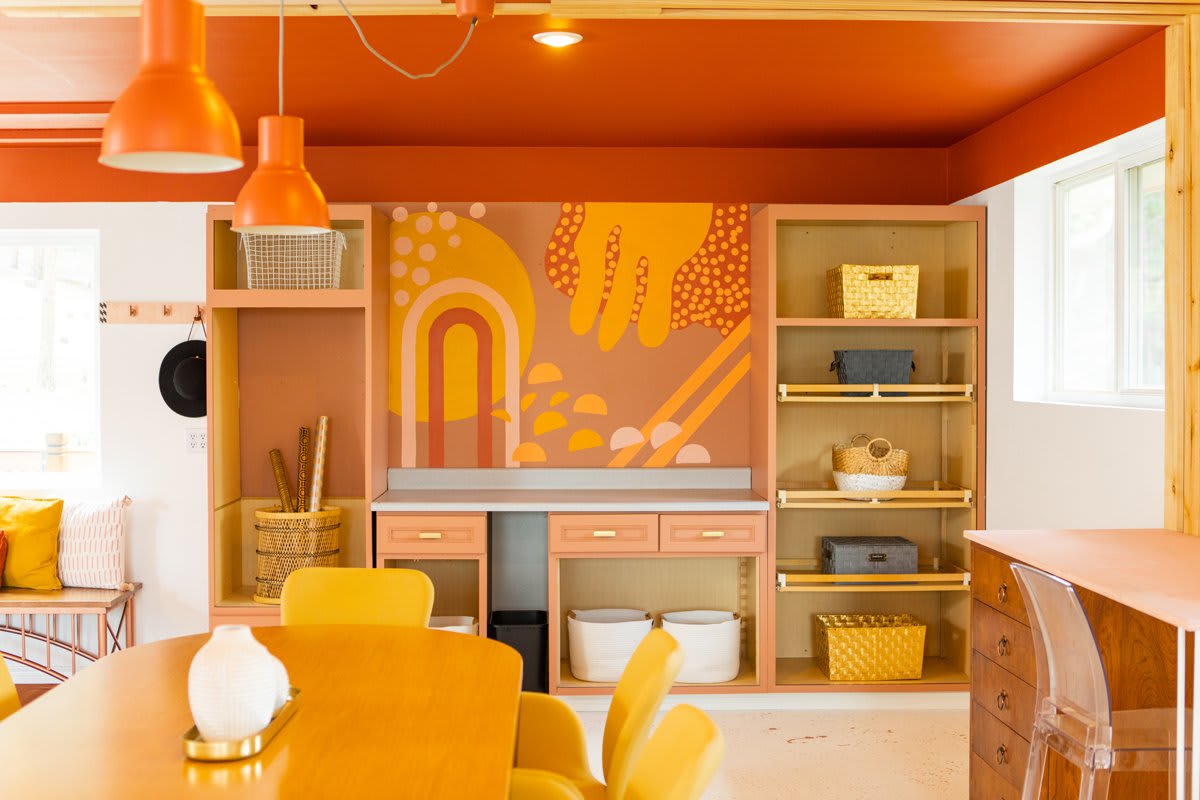 An absolute necessity for any co-working space? Coffee! Thanks to a fun color block arch, the coffee bar feels like its own special moment, worthy of a coffee break…or two…or three.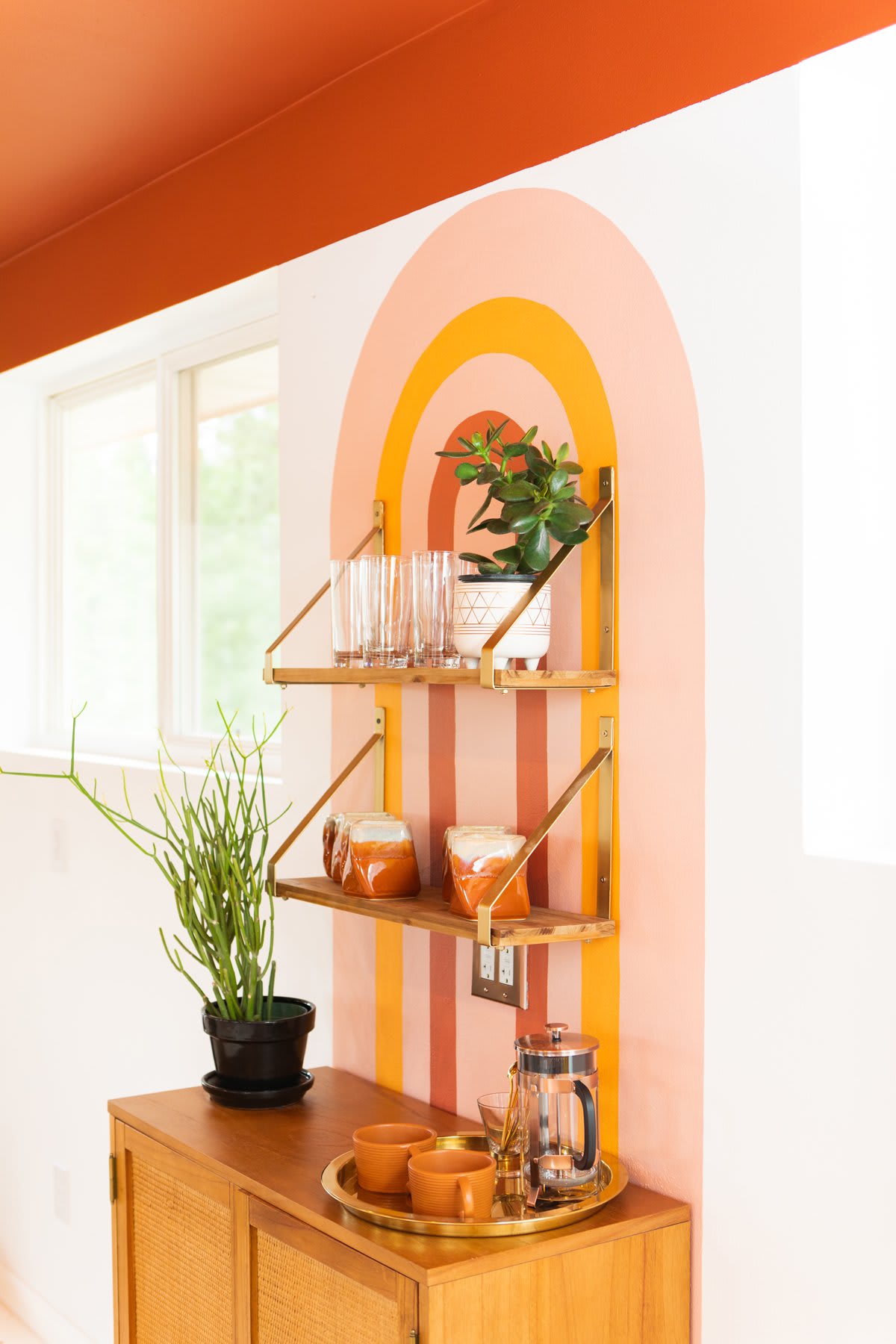 Layered rugs from Safavieh help to delineate the lounge zone. The Brittany convertible sofa in mustard yellow by Novogratz provides the perfect spot for afternoon power naps. A vintage 1970s red hand chair calls attention to the vinyl corner, with the tall faux palm tree drawing the eye upwards.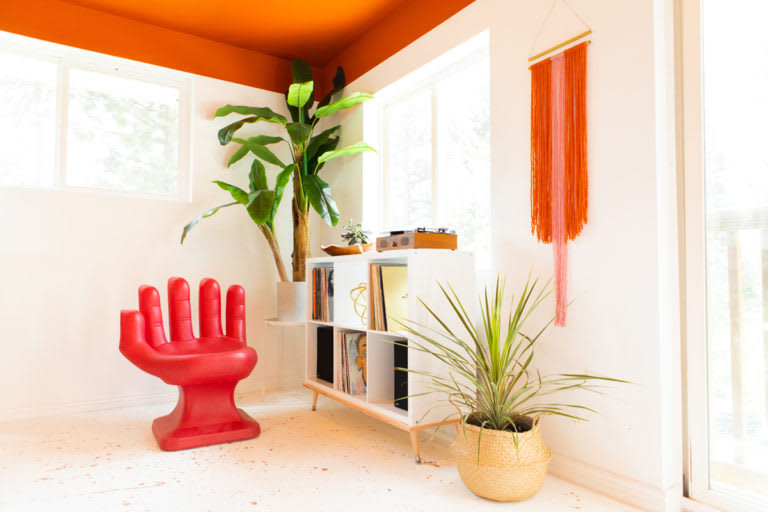 Within the 700-square-foot space, there is now an entry bench, conference area, desk space, lounge zone, art niche, coffee bar, and vinyl corner.
REUSE
To keep to a very tight budget, nearly all of the pieces in the room were thrifted or DIY'ed. The entry bench formerly lived in a local movie theater and was given new life thanks to rose gold spray paint on the base and a newly stained top. For the tall desks, they used two matching vintage dressers for one side of each desk, adding hairpin legs from HairpinLegs.com, and a ¾-inch thick plywood top, stained pink and sealed with a high-gloss polyurethane. When the owner couldn't find a record console she liked, she used a cube cubby from Target, adding a wooden base and angled legs, both stained pink. The slat wall is perhaps the most impactful element of the entire room, and was achieved using a mix of 1" x 4" and 1" x 2" pine boards. The lackluster door was given a coat of mustard paint (Glowing Umber 182 by Benjamin Moore), and a set of mounted antlers that the owner actually salvaged from a dumpster were painted in the same color, with an arch painted behind to mimic the arch of the coffee bar.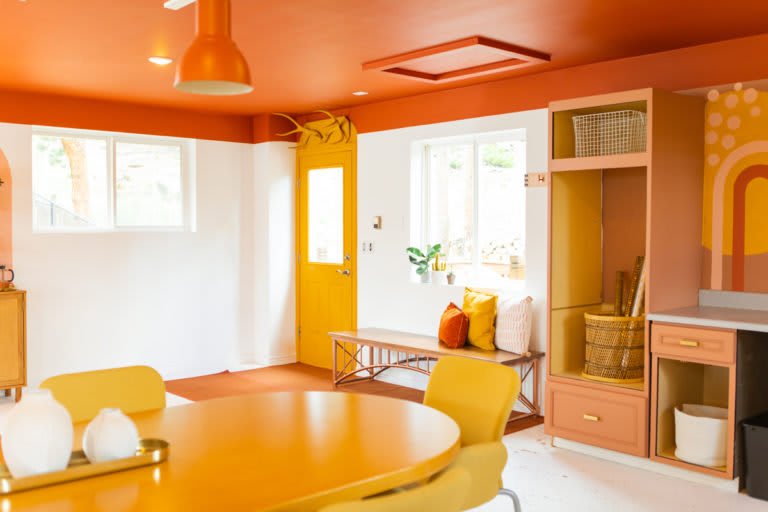 Eager to transform a space in your home into a home office? Establish a vibe, utilize paint for maximum impact, create dedicated zones, and reuse your own furniture from other spaces in your house (or safely thrift).
Love this coffee bar as much as we do? Click here for step-by-step instructions to create your own!
We shared this article with you in our Fall/Winter 2020 Issue of NEST Magazine. To view the full issue, click here.