Radhika Vydianathan's love affair with interior design began as a child in Mumbai, India, where she was fascinated with Egyptian architecture on the Discovery channel. After pursuing a bachelor's degree in Fine Art in India, she married her childhood sweetheart and moved to Atlanta, GA. Vydianathan went on to graduate from Savannah College of Art and Design (SCAD) with a degree in interior design with a focus on hospitality design. In 2017, she opened her own firm, , with hopes of making a difference in people's lives through design.
"Design is an all-encompassing visual experience. It's not simply sprucing up a room, or adding pretty objects. When every element possesses intention and longevity, it brings a level of energy and enthusiasm to the homeowner. When you walk into your home, you should fall in love with it over and over again," shares Vydianathan.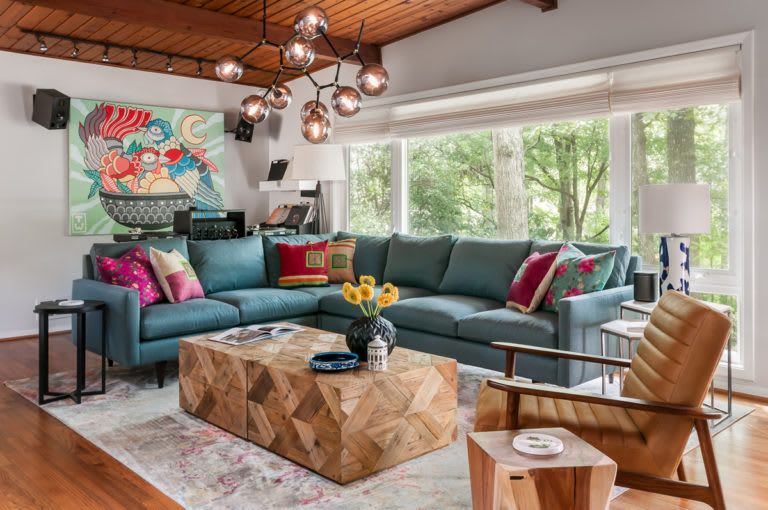 This inspired approach is precisely what an Atlanta, GA, couple was seeking when they approached Vydianathan to design their 1950s home in the Brookhaven neighborhood. The young, vibrant couple who loves to entertain wanted a space where they could host friends, play music, and share in warm conversations around the fireplace. They wanted a design that would complement the mid-century lines of the home, while incorporating pillows and ceramics from their many travels around the world.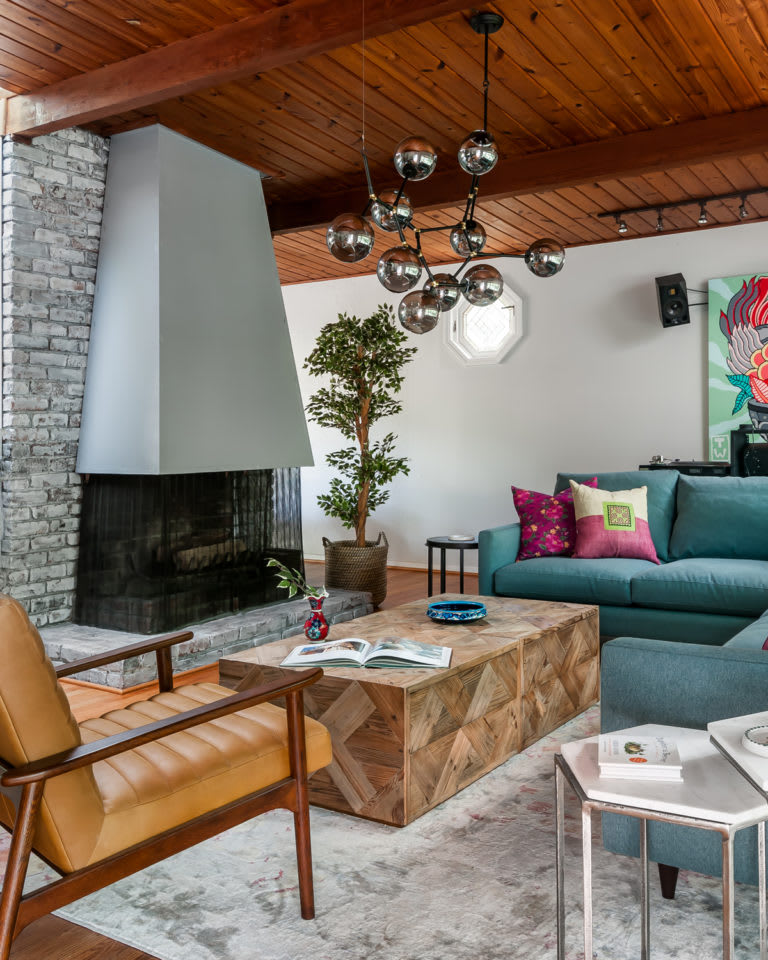 As with all of her projects, Vydianathan put function first. "You need a strong concept and a proper flow, then accessories follow." She began with the lighting—because of the exposed wood beam ceilings, there was no overhead lighting, so she installed track lighting in various areas, and added a large sculptural light fixture with smoked glass orbs from Direct Furniture. Below this fixture sit two beautiful wood coffee tables made from reclaimed doors from China, sourced from 4 Hands.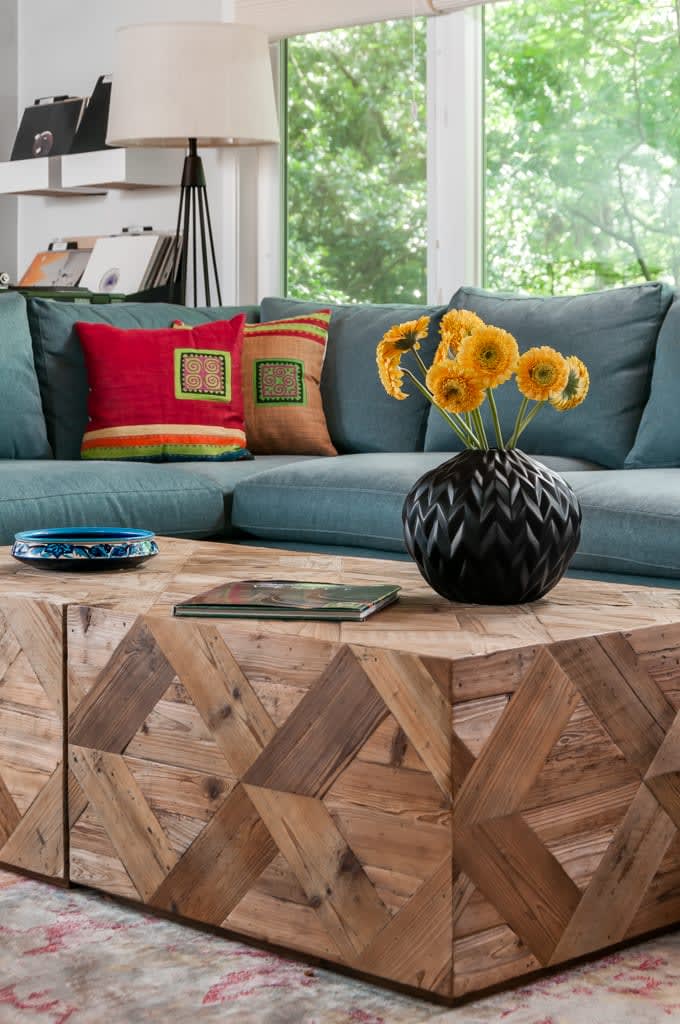 The Jasper sectional by Room & Board offers a fun pop of teal, while offering a neutral base for the vibrantly colored pillows. The leather and wood accent chair from Article sits next to a twisted wood side table. "Don't be afraid to mix woods, metals, and textures, as long as they are the right scale and proportion," advises Vydianathan.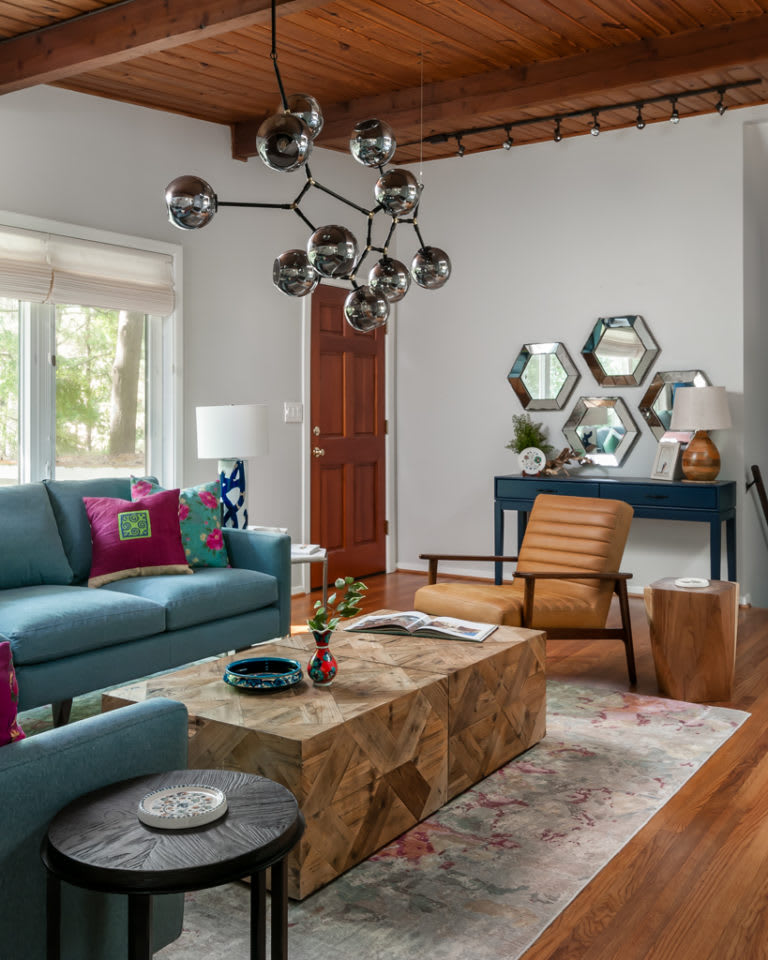 Taking into account the hobbies and activities of the client, Vydianathan chose furnishings that support their lifestyle. DJing is one of the client's passions, so having a dedicated space for his turntables and vinyl collection was a must. Vydianathan utilized a small console, placed directly behind the couch, to create a DJ booth that was integrated but didn't interfere with the circulation of the guests. Above the DJ area hangs a custom piece of artwork by Atlanta artist Tanner Wilson. The piece not only incorporates the colors from the room, but represents the owners—the two birds coming from different cultural backgrounds, joining together to create a bountiful home.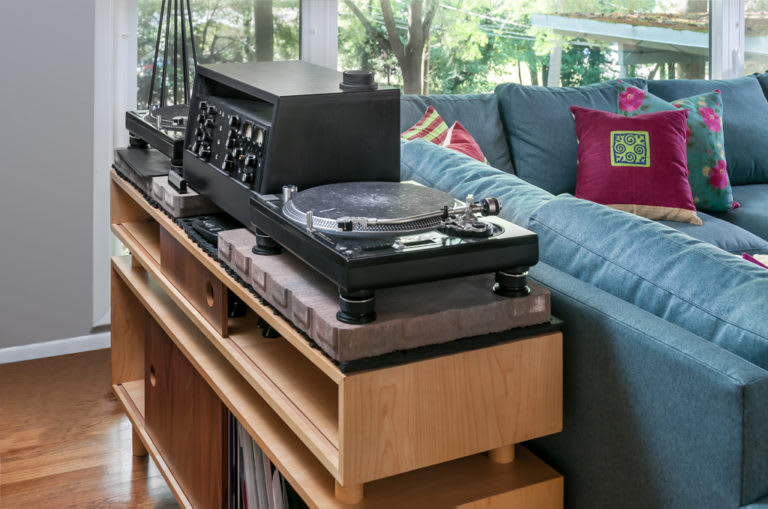 "A home should feel personal, not simply filled with items from a catalog. Don't try to match everything perfectly—instead play with different materials and finishes. It will enhance the level of interest," says Vydianathan. To this point, a round wooden table and blue linen chairs by Moe's Home Collection encourage conversation in the dining room. The light fixture by Direct Furniture casts beautiful shadows onto the walls when illuminated in the evening.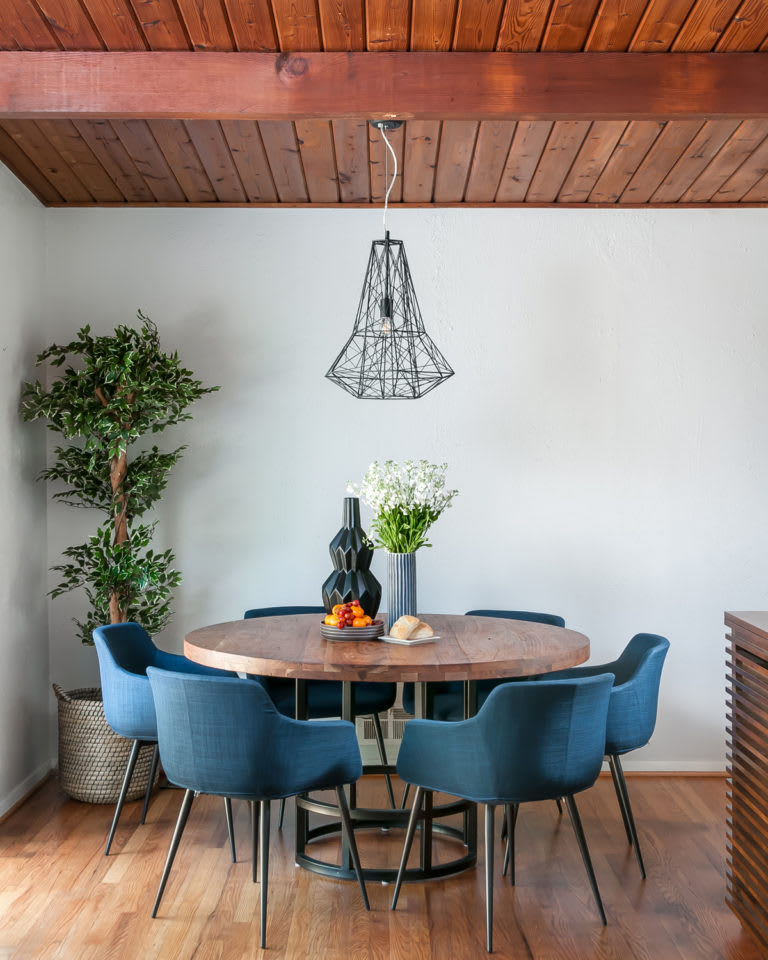 The side cabinet by Zuo Modern brings texture to the space, and acts as a discreet bar station. Open shelving offers a space to display the some of the owner's ceramics, including a handmade jug from Italy.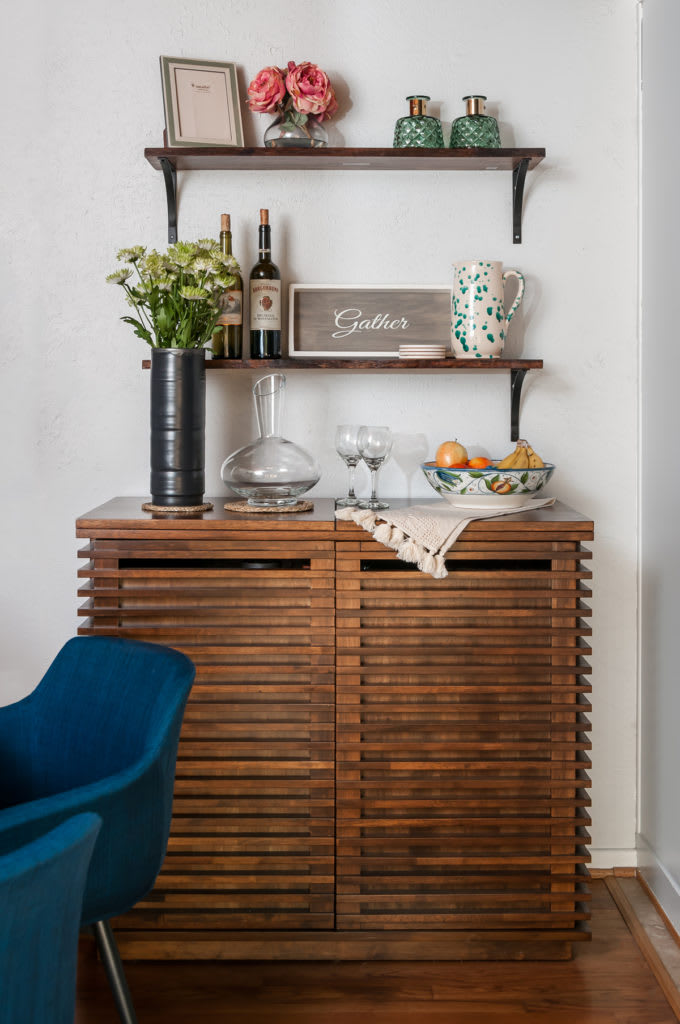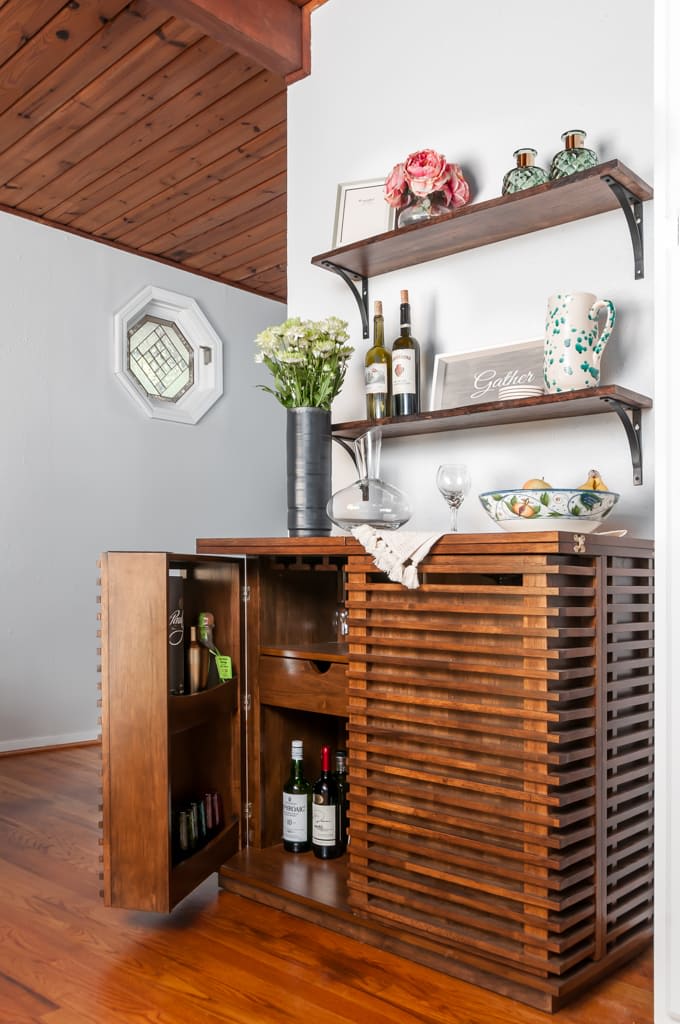 By mixing pieces from local, retail, and trade stores, Vydianathan was able to curate a look that reflects the owner's personal aesthetic and lifestyle.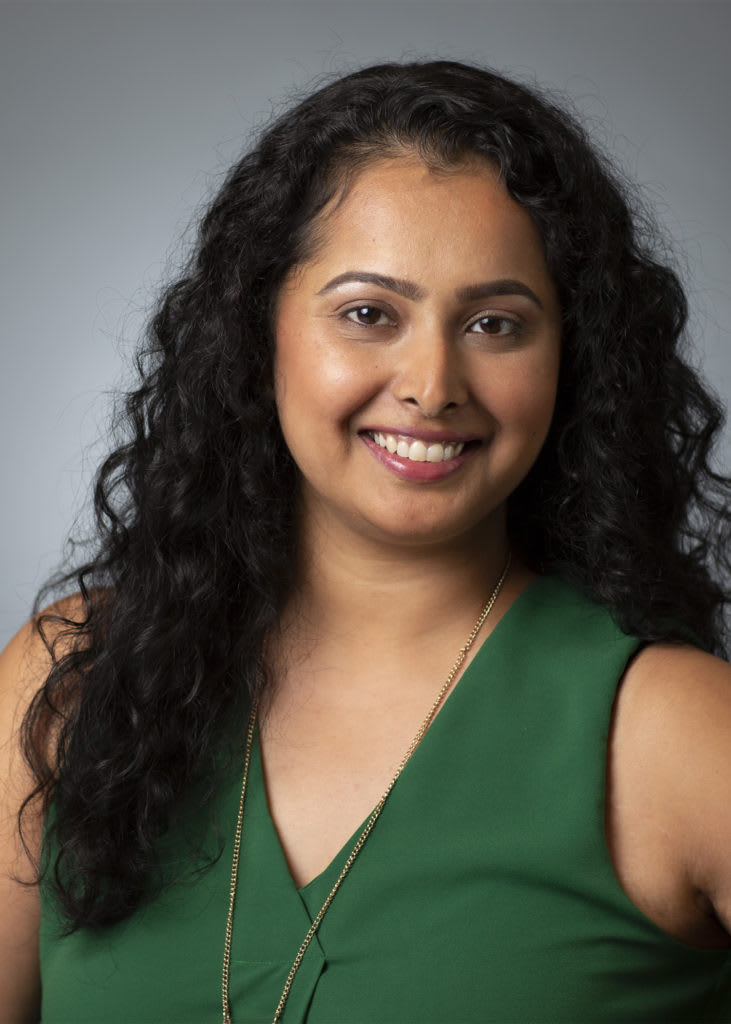 To connect with Vydianathan, visit .
We shared this story with you in our Spring/Summer 2019 Issue of . To view the full issue, .