Picture this…you wake up and sleepily saunter into your bathroom, open your medicine cabinet, and are greeted by clean, coordinated, systematized shelving. No rummaging around. Your toothpaste, brush, floss, and mouthwash are all perfectly placed at arm's reach in their proper spot.
Then you waltz into your kitchen, open your beautifully organized pantry to grab your favorite blend of locally brewed coffee or fair trade tea…filters are neatly placed in a tin, coffee pot and cups await the first use of the day. Aroma begins to permeate the room as water boils and your grinder whirls.
Sounds nice doesn't it? Did your shoulders relax just a little bit, picturing what a less chaotic morning could feel like? Minimizing the chaos and clutter in your home allows you to minimize the chaos and clutter in your mind. The first 60 minutes after you wake up can set the tone for the entire day. Regardless of house size, layout, or the number of occupants you share your nest with, an organized kitchen, bathroom, or closet can be achievable for all of us.
We've identified the spaces that tend to hold the most clutter, and suggested ways to tackle each of them. Not sure which room to start with first? Head over to our 30-Day Cleaning Calendar for a suggested way to tackle each space, one weekend at a time.
KITCHEN

We all know that the kitchen is the heart of the home — and possibly the most chaotic room in the house. For these reasons we suggest taking the plunge and starting here. It's certainly going to be a lot of work, but also incredibly satisfying, and it will help your daily routines. For more in-depth kitchen organization, check out this article we previously shared in NEST Magazine.
Suggested Supplies: Head to Target, Walmart, or a Home Goods type store to stock up on organizer bins and small and medium-sized BPA-free containers.
Refrigerator
Clean
Start by removing everything—yes, even those random condiment packets in the door.
Go through each item, checking expiration dates and throwing out perished goods.
Thoroughly clean your fridge—using eco-friendly products like distilled white vinegar, lemon juice, and baking soda. Here are 6 Easy Homemade Cleaning Sprays you can try. Remove all trays and bins, being sure to dry them completely before placing back into fridge.
Organize
While the items are still out on the counter, organize them into groups, so you can access which types of products will take up the most room. If your family drinks a lot of sparkling water, maybe give the cans a more prominent spot. If you keep your taller bottles in the door, maybe you can move a shelf or two around. Make your fridge work for you!
If you have a lot of smaller items, consider using large clear bins to keep like items tidy—sauces, dressings, bags of nuts (Yes, nuts should be refrigerated! Nuts' fragile unsaturated fats can go rancid quickly. While that may not hurt your health, it can definitely be bad news for flavor. Keep them in a tightly sealed container in your fridge for up to six months).
Place items back into the fridge neatly, labels facing outwards. If you have multiples, place the item with the earlier expiration date in the front, so you use it first.
Pantry
Clean

Clear off your kitchen island or dining room table so you'll have plenty of room to spread out.
Remove every single item from the pantry, checking dates and trashing expired items as you go.
Wipe down all surfaces with eco-friendly products, then sweep and mop the floors.
If your pantry is dark, consider purchasing puck lights. Being able to easily see that bag of three-year-old box stuffing mix might prevent you from needlessly buying another!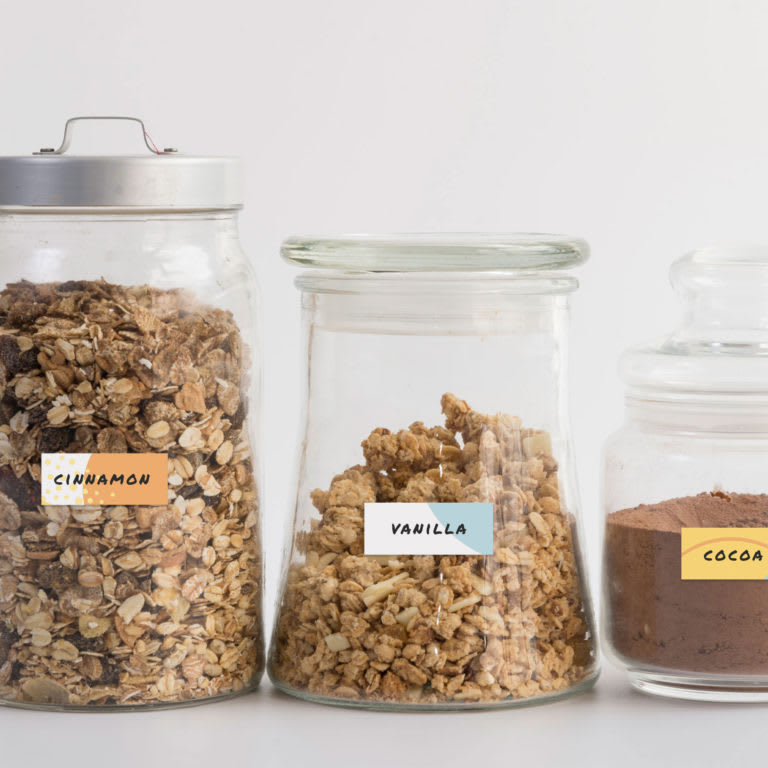 Organize

As you did with your fridge, start by putting like items together. Assess which items would work well in organizer bins, and which items can stay tidy on their own—like boxes of macaroni and cheese, canned items, and "back stock" or duplicate items that may not need to be readily displayed.
Here are things that seem to work well in organizer bins, and will look smashing with your new Nesty labels!

Pasta
Grains
Cereal
Crackers
Cookies
Chips
Dry Beans
Sauces
Rice
Sugar
Flour
Brown Sugar
Bars
Hot Cereals
Dried Fruit
Soups

Remove exterior packaging from single serve items like bars and oatmeal, and place into bins.
Before you being placing things back into the pantry, think about the people in your household who will be accessing items. For example, if you have kids—do you want to place snack items on a lower shelf for them to grab? Or place desserts out of reach? If your significant other uses peanut butter in a smoothie every single morning, place it on an eye-level shelf. (Or even better yet, turn a cabinet into a smoothie station where protein powders, nut butters, and add ins live.)
Based on the height of your shelves, place things back in a logical manner.
Tiered shelving or lazy susan turn tables are awesome for keeping things neat, and being able to easily see what you have on hand.
Cabinets
If you've already got a system that works well for you, leave it! But give yourself 10 minutes to open up every single cabinet, stand back, and think about if it would make sense to move things around a bit. Taking into account what you cook, how you cook it, and how often you cook, you may decide to move things around.
If you plan on keeping things the way they are, then there's no need to create a huge mess. Simply clean each cabinet one at a time, pulling out all items, wiping down surfaces, and placing neatly back inside.
If you decide to move things around, follow the same steps as above, removing all cabinet contents, and placing like-items together to better evaluate what you have.
Clean all surfaces, including cabinet faces and hardware handles. Don't forget to wipe the toe kicks!
Use post-it notes to plan out where things should live. Once you've moved those around enough to feel good about the new layout, and you've double checked that you've allotted room for the random items, like oversized serving bowls, then you can place things in their new spots. Metal storage racks can be useful.
Silverware + Utensil Drawers
Remove all silverware, clean out tray and return, removing broken items.
For utensils, take stock. Do you really need 7 spatulas? Keep the ones you often use, and donate the remaining items that are in usable condition. Minimizing what you have will make finding things easier, and more enjoyable. Replace broken items that you deem necessary, or if you've lived this long without a fancy garlic press, maybe you don't need one?
Once you've determined what utensils are really serving you (see what we did there?), clean out all drawers, line with a grippy surface to keep things from sliding around, and fill back up in a
Spices
Ohhhhh spices. Pesky little critters, aren't they? The simplest option is to alphabetize your spices. You can take that organization one step further by first separating them into sweet and savory spices, then alphabetize. To take the aesthetics up a notch, purchase glass jars with lids that you can write on, or use permanent chalk pens to write on the sides of the jars, depending on how you store them.
Remember that most spices expire after six months, so before you organize, you may want to take a drastic cleanse, eliminating the random rarely used spice rub your Uncle bought for you four years ago.
BATHROOMS
Suggested supplies: Head to your local home decor store to pick up bins and baskets to keep your bathroom looking tidy. By choosing solid colors in muted tones, you'll cut down on the visual clutter.
Primary Bathroom
Start by removing everything, discarding as much as possible as you go.
Donate usable things in good condition, and throw out expired medicines and makeup.
Clean all surfaces.
Place like items together, assessing how much space each type of item will use.
Using post its, plan out what goes where, being sure to place the daily use items in top drawers/cabinets.
Once know where things will go, use the right size organizer bins, and adhere your snazzy new Nesty labels.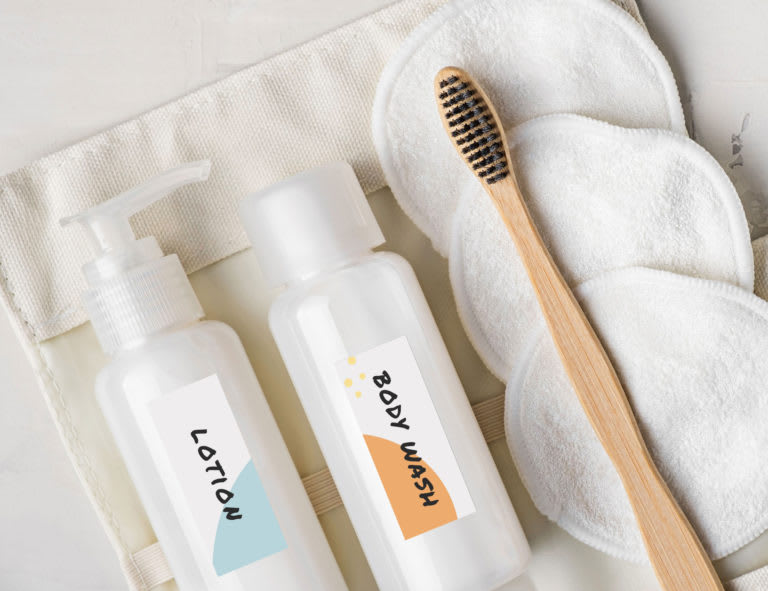 Secondary Bathrooms + Half Baths
Use the same steps above, minimizing, cleaning, and putting things back together in an organized and labeled manner.
CLOSETS
Suggested supplies: For a mud room or entry way closet, we recommend large baskets or bins for storing gloves, hats, scarves, etc. For bedroom closets, you may want to purchase shoe racks, laundry baskets, and storage bins that will fit on upper closet shelves.
Entry Way / Mud Room Closets
Take a deep breath. This might be a long day.
Remove everything, laying it all out in the living room, so you can truly see what you have.
Edit with a heavy hand, making four piles:

Donate
Trash
Keep in this closet
Keep, but in another spot in the house

Place like items into storage baskets: summer hats, winter hats, gloves, scarves, etc.
Organize coats by season and by person (you, spouse, kids, dogs).
Employ shoe racks to keep things off the floor, keeping only a few pairs per person.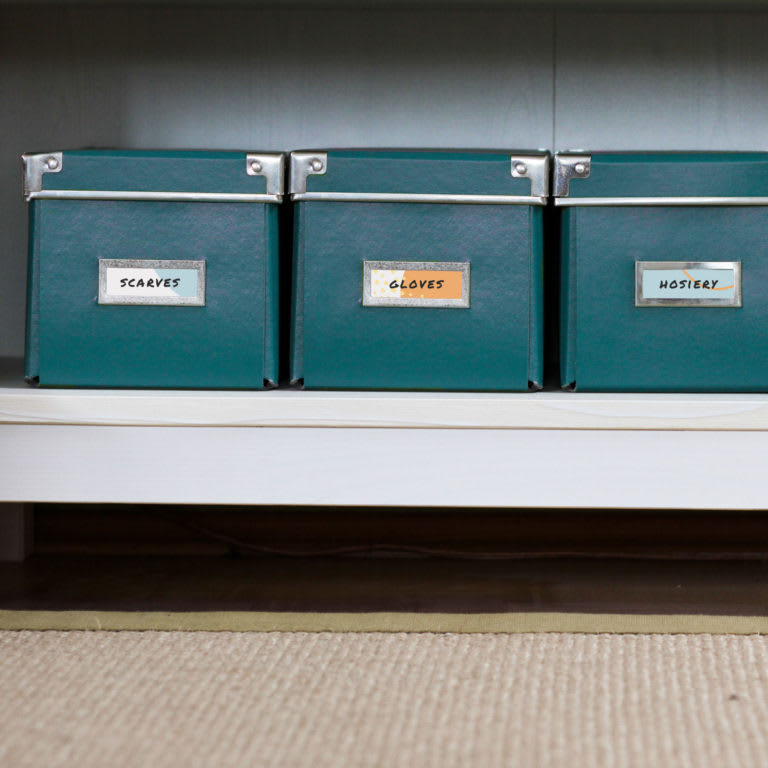 Linen Closet
Remove everything, clean shelves, eliminating as you go.
Use bins or baskets to organize:

Sheets, by size
Blankets, by weight
Towels, by size and color
Place pillows in protective bags to prevent dust from building up
Bedroom Closets
Following the same logic as above: remove, donate, sort, and place back into the closet, sorting in a way that works best for you.
Here are a few organization ideas:

Organize by type: (omitting categories that don't apply)

tank tops / t-shirts, long-sleeve t-shirts / shirts with collars / heavier weight shirts / sweaters / pants / skirts / dresses / suits / outerwear

Organize by color:

This can be within the above type, or completely pulling together all items by color, in rainbow order
GARAGE
Even if you don't have a garage, chances are that you have a storage space that could use some attention—a basement, storage locker, or shed. Use these same guidelines to tackle those spaces.
Suggested supplies: This will of course depend on the size/layout of your garage, but metal shelving and large storage totes may be helpful.
Clean Out
Choose a weekend with nice weather in the forecast.
Move the cars to the street.
Set out tarps to be able to sort your belongings into categories:

Automotive
Gardening/Lawn Maintenance
Outdoor gear (whichever applies to your household)

Camping
Bikes
Water Sports
Climbing
Skiing

Holiday Decor
Tools/Hardware

Power Tools
Hand Tools
Misc Nuts/Bolts
Painting Supplies
Lumber

Trash/Recycle
Be sure to dedicate some tarp or lawn space to "DONATE" and "TRASH"

If you can put trash items directly into the back of a truck, great. The less times you have to move things, the better.
For the donate items, bag or box them up and put them right into the back of a car, instead of taking it into the house and back out again.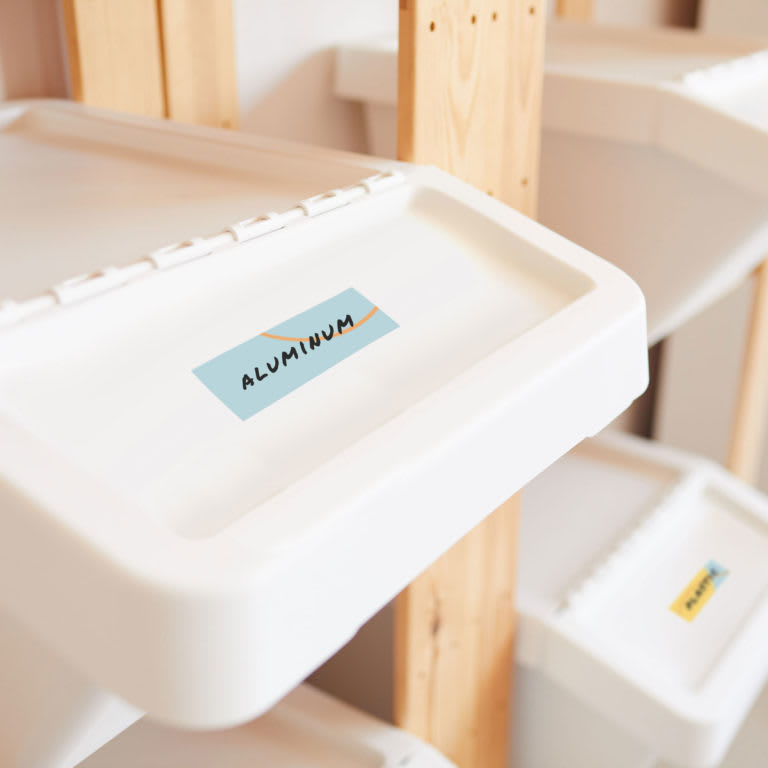 Put Back Together
Assess what you have, and what can be consolidated. Determine how much space you want to dedicate to each item, and which storage bins will be most helpful.
Once annually used items like holiday decor can be stored higher, and often used items like hand tools should be easier to access.
Use vertical storage for scrap lumber, ladders, skis, and tall lawn maintenance tools.
Pop over to our 30-Day Cleaning Calendar for a suggested way to tackle each space, one weekend at a time. And if you're getting ready to sell your home this spring, be sure to check out our blog, How to Declutter Your Home for Selling.