A WEEK-BY-WEEK CALENDAR TO GET YOUR HOME ORGANIZED
Digging through clutter to find your keys can be maddening. By minimizing the sheer number of objects in your house, you'll lessen the time spent searching. Intentional spaces can optimize your efficiency… and your happiness! Here's a 30-day home clean-up calendar to help you on your way to orderly bliss.

Get your days back!
We've created this printable month-long agenda to break down the daunting task of organizing your whole home into bite-size bits to keep you motivated and on track: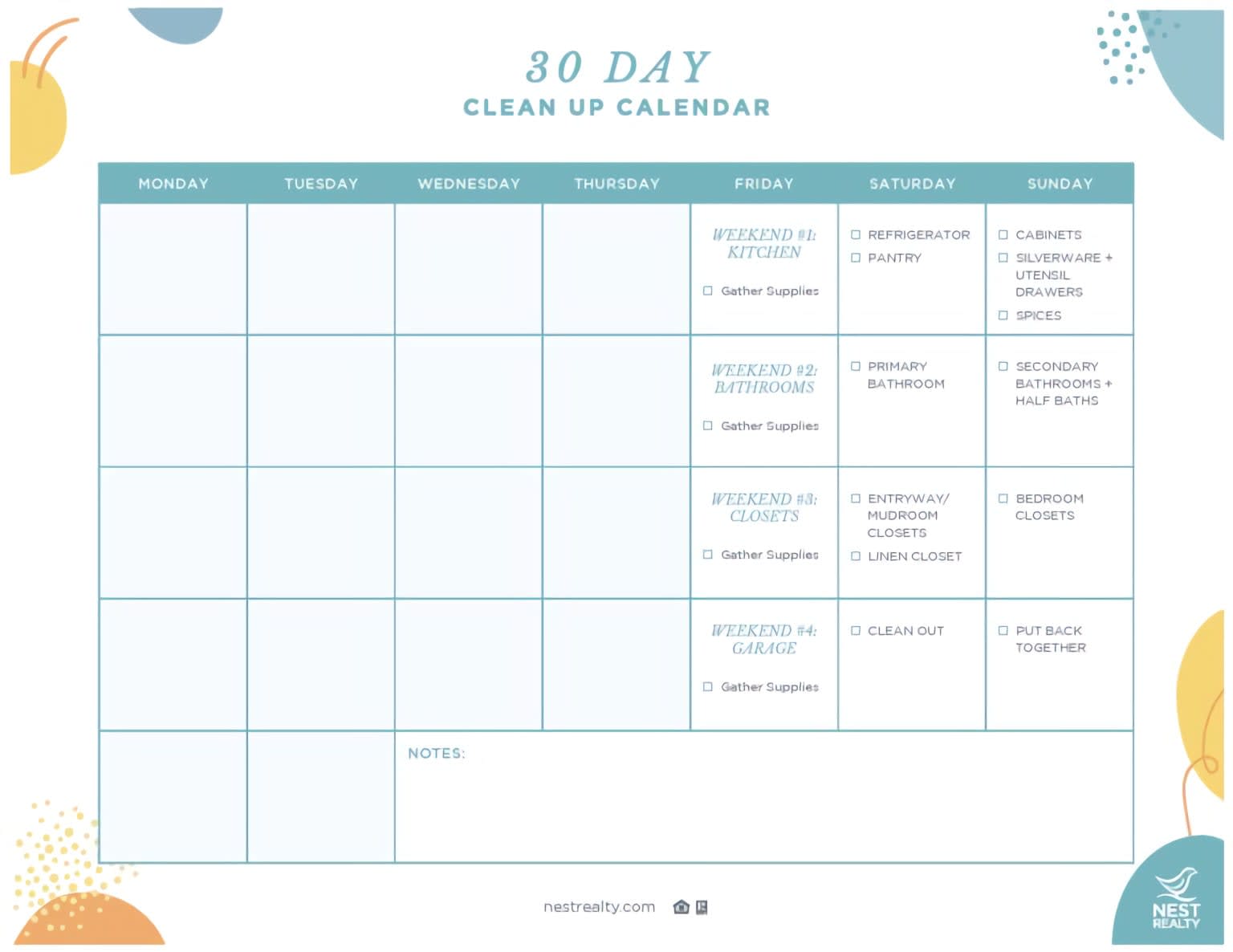 Click here to download and print this calendar. Then head over to our blog, a Step-By-Step Guide to Organizing Your Home, for a detailed breakdown on what to do in each of these spaces!
WEEKEND #1 – KITCHEN
Friday Night
Gather supplies—If you plan on utilizing organizational bins and containers on Saturday's pantry party, head to Target, Walmart, or a Home Goods type store to stock up on BPA free containers.
Saturday
Sunday
Cabinets
Silverware + utensil drawers
Spices
WEEKEND #2 – BATHROOMS
Friday Night
Gather supplies—head to your local home decor store to pick up bins and baskets to keep your bathroom looking glam. By choosing solid colors in muted tones, you'll cut down on the visual clutter.
Saturday
Sunday
Secondary bathrooms + half baths
WEEKEND #3 – CLOSETS
Friday Night
Gather supplies—for a mud room or entry way closet, we recommend large baskets or bins for storing gloves, hats, scarves, etc. For bedroom closets, you may want to purchase shoe racks, laundry baskets, and storage bins that will fit on upper closet shelves.
Saturday
Entry way / mud room closets
Linen closet
Sunday
WEEKEND #4 – GARAGE
Friday Night:
Gather supplies—this will of course depend on the size/layout of your garage, but metal shelving and large storage totes may be helpful.
Saturday
Sunday
For details on how to tackle each of these spaces, click here for our Step-By-Step Guide, and if you're considering selling your home this spring, be sure to check out our blog, How to Declutter Your Home for Selling.